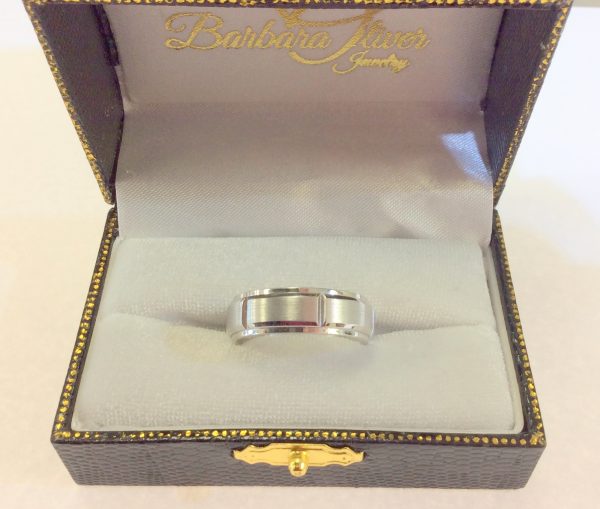 Today,  men's wedding bands come in a wide variety of materials from traditional gold and platinum to alternative materials such as ceramic, cobalt, titanium and more. What metal or material you select can depend on various factors including look, durability and cost. At Barbara Oliver Jewelry, we believe knowledge is power and information provides confidence to make the right decision. We hope you find the following overview helpful.
Men's Wedding Bands: Gold and Platinum vs. Alternative Metals/Materials  
As a jeweler, I am going to confess my preference for gold and platinum right up front.  I have two simple reasons:
1)  Gold and platinum can be re-sized, alternative materials cannot. The reality of changing waistlines and expanding knuckles often necessitates a ring size change over the years.
2)  Rings made with alternative materials are more difficult to cut off in an emergency (think broken or swelling finger).
With that said, we understand that alternative metals are considerably less expensive than gold or platinum, and most can be removed in an emergency albeit with more difficulty. Some people like the durability of alternative metals or simply prefer their look.  Additionally, others are not particularly attached to the ring they wore on their wedding day and are happy to buy a replacement, should their finger size change.
Here's my second confession: My own husband wears a black ceramic band. He likes to wear a wedding band at the gym to ward off the potential "Gym Bunnies" advances. Although I was most confident it would be a non-issue, he likes to look married at all times.  Wearing his good ring whilst weightlifting is a hard no, so the durability and low cost of ceramic was a great alternative.
As with so many things in life, much comes down to personal preference.
Just the Facts: Evaluating Metals and Materials  
Gold and Platinum: 
The traditional choice for many years, gold and platinum are softer than the new alternative metals on the market. While this provides the flexibility for your wedding band to be re-sized, it does make it more susceptible to scratches. Periodic buffing will keep your wedding band looking good.  Gold and platinum are hypoallergenic. Depending on the alloys used in gold, the metal  can be gold, white or rose in color.

Ceramic:  
This inorganic, hi-tech nonmetallic material is hypo- allergenic and is available in three colors: black, white and pink. The color is within the material vs. a coating, so a ceramic band will retain its luster and color. It is harder than both cobalt and titanium. Extremely scratch resistant it is also heat and fade resistant, offering excellent durability. One note: ceramic can crack if dropped, depending on the force of the impact.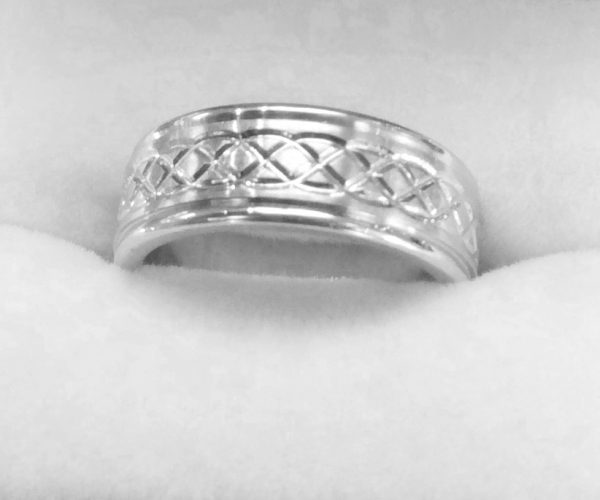 Cobalt:
A newer alternative metal that is being used for men's wedding bands,  cobalt is hypo-allergenic, and does not crack or chip.  Its color is reminiscent of platinum or white gold. Since the color is within the metal, it retains its color and luster. Cobalt is less hard than ceramic and titanium.  When compared to titanium, it is more scratch resistant, lighter in color and a bit heavier in weight.  Cobalt bands can be engraved, should you want to include a personal inscription.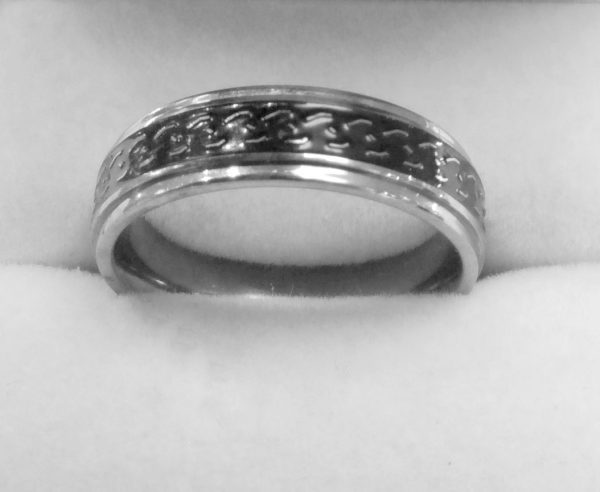 Titanium:
Hypo-allergenic and durable, titanium is a lightweight metal that is dent and corrosion resistant. Titanium holds its color well and is a few shades darker than white gold or platinum. It is closer to dark grey or gunmetal, and can be anodized to produce various shades. Bands can be engraved to include a personal inscription.
Note on Tungsten: I don't sell men's wedding bands in this metal for the following reason:  It is one of the hardest materials in the world and extremely difficult to cut off in an emergency. I couldn't responsibly sell it, particularly with so many other options available.
One Final Note: Traditional Fit vs. Comfort Fit
One of the newer developments in men's wedding bands is the comfort fit band. What distinguishes a comfort fit band from a traditional flat fit band is an additional dome of metal inside the band.  This extra metal results in a more comfortable fit especially for wider bands (5mm or more).
The convex shape on the inside makes it easier to get the band over a larger knuckle. It also results in a more comfortable fit once the band is on the finger, because it keeps the edges of the ring up and off the finger. Sizing for a comfort fit band differs a bit from the traditional band, and you may find you need a slightly smaller size. So,  be sure comfort fit sizing rings are used when you are measured.  FYI: If you are in a budget conscious mode (and weddings can do this to the best of us), here's a heads up: the increased metal in a gold band means a heavier and consequently more expensive ring.
Finding the Perfect Wedding Band for You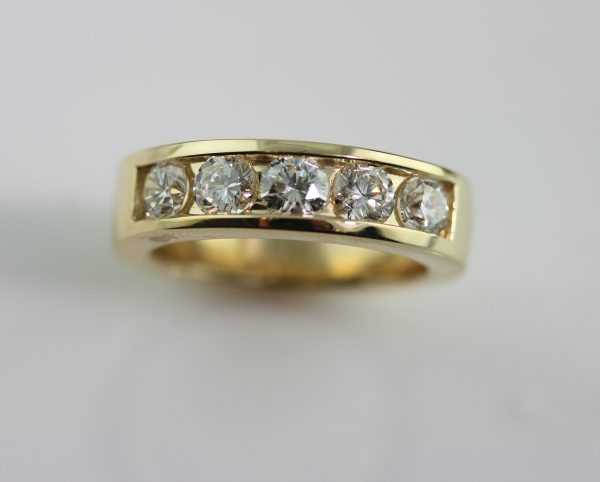 Please stop our shop in Williamsville, NY.  We'd love to show our men's wedding band selection or create a  custom  jewelry design just for you. With extensive experience and a passion for custom jewelry, I will be happy to create a wedding band to reflect your style and vision.  Shown at left is a custom designed band in yellow gold with diamonds. For custom jewelry near Buffalo, NY visit us.