"It is about helping people celebrate those amazing moments in life and capturing the emotion of that special moment in time for years to come."
Barbara Oliver Jewelry – a jewelry shopping experience like no other.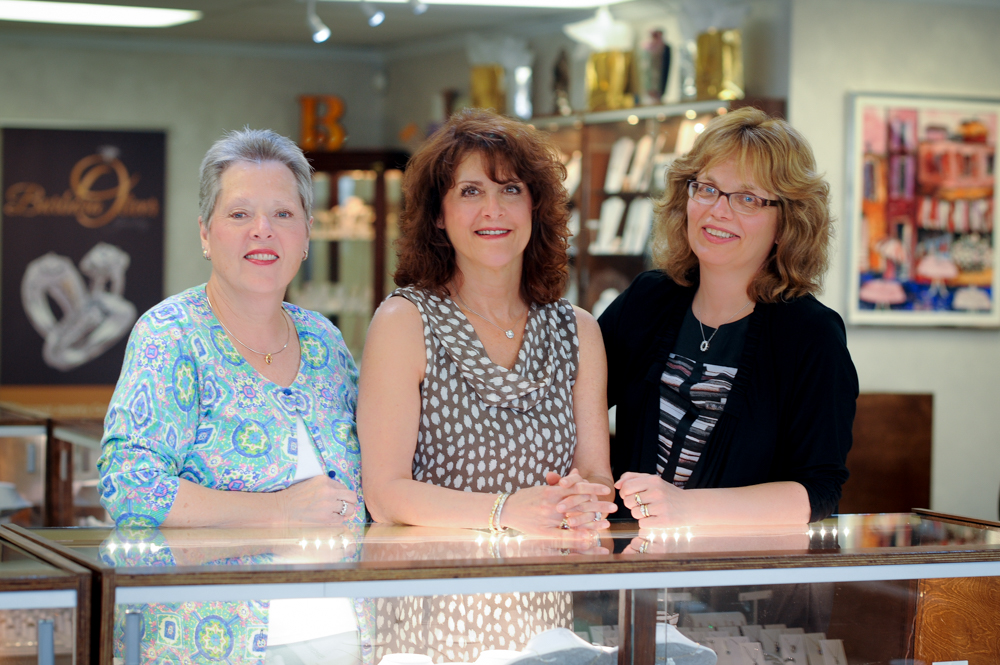 Meet the team: Coleen, Barbara, Joanne, and our camera shy goldsmith Dan.
Our Story
In September of 2004 Barbara Oliver Jewelry was born. By most guidelines we were an undersized baby. On opening day our shop had a single showcase (a repurposed Barbie-pink cosmetic display) and 43 pieces of jewelry. To make the challenge of starting up even greater we also decided to locate on the third floor of an office building instead of a store front. And yet here we remain, after 13 wonderful years, on the third floor of the same office building. And for that, we can only thank our friends and customers who continue to make the trek to our slightly out of the way jewelry oasis.
People sometimes ask why we went out on our own. It's a good question. I was a reluctant (some would say neurotic) entrepreneur, but after having worked a number of years in the jewelry business I concluded that my vision of customer service could only be assured if I had total control over the experience, from start to finish. Starting up "another" jewelry and custom jewelry design store in Buffalo was a leap of faith, based on our belief that people who appreciate fine jewelry would embrace the intimacy of the location, and the value of real expertise and quality. Three expansions later, I think we can safely say we were on to something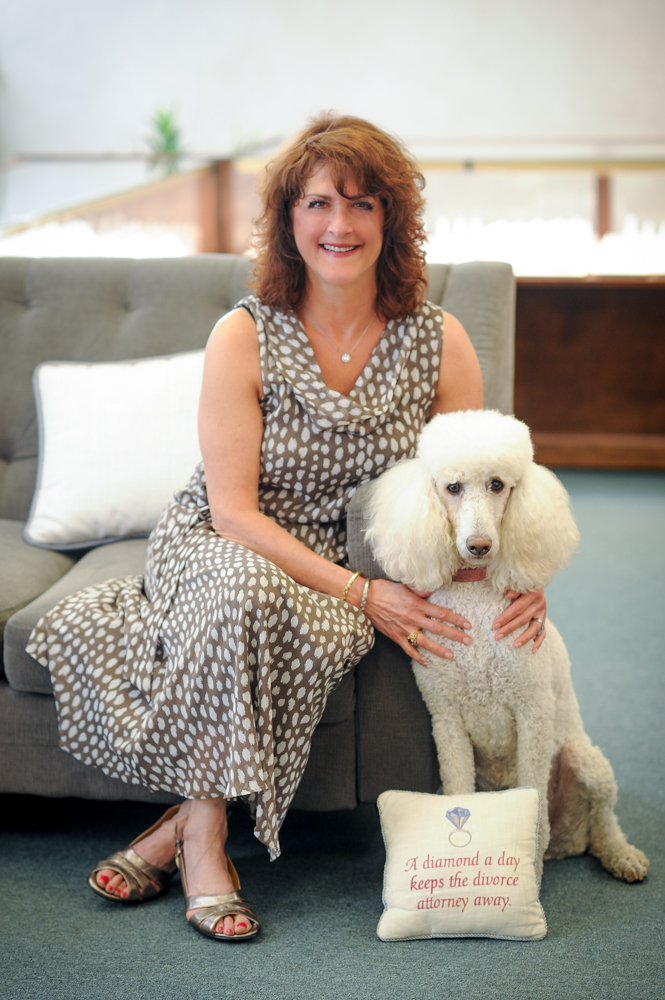 Opal, our top producing poodle, and I.
We do everything a traditional jeweler does; repairs, appraisals, custom design, stock sales, etc. IMHO we do all these things very, very well. But the center stone of our business (yes, it's a pun, groan if you must) is an intense and unwavering focus on the needs of our customers. We call it "Customer Carat". OK, we don't really call it that, as fun as it sounds, but we do call it "good business". For us, ensuring you get the right piece of jewelry for the occasion, at the right price, is paramount.
Now that my name is on the door, I get to play boss, and my staff generally lets me. Of course, we all know that in every business the real boss is the customer. We don't ever want to be fired, so everything we do is predicated on exceeding our customer's loftiest expectations. That means delivering the absolute best in services, guidance & education, jewelry selection, and value. And because my name is actually on the door, I take making this happen very personally.
Our Values
Here are the five principles that define our business and shape our customer focus:
Trust – building a long term relationship requires trust. To build trust, every interaction requires transparency and honesty. We will always put building trust and creating a long term relationship ahead of making a quick profit.
Professional Expertise and Education – buying jewelry is not like buying a Model X-12 toaster, where the item is identical at every store and the price is all that matters. Usually it's not possible to put potential jewelry purchases from different sellers side by side. We have a good "work around" for this problem. As a Graduate Gemologist with 30 years of experience in the jewelry trade I just love to talk about jewelry, even more than the weather. I'll take the time to inform and educate you, so that you will be confident in your final decision. Knowledge is power, and we want you to have it. We know you'll use it wisely.
Accountability – we move heaven and earth to follow through on our commitments. In the rare case where circumstances conspire against us, we communicate quickly and professionally to ensure that you understand the issue, and are totally satisfied with our corrective actions.
Quality – I adore fine jewelry, it's my passion and my career. So when I buy or create a jewelry piece, I pretend it's meant for me. And yes, my job is totally awesome. Every diamond and colored gemstone, and every piece of jewelry, goes under the loupe or microscope. The stones, design, craftsmanship, and finish must be exceptional; one reason we don't carry high volume manufactured pieces. It's a simple concept – if it doesn't meet my standards, we won't sell it.
Value – our pricing is fair and truthful. We'll take the time to explain why a stone or finished piece is priced the way it is. We even encourage people to comparison shop. Go on the internet, for all we care. I know, we really suck at high pressure sales tactics. But we also know that once people understand how to shop for jewelry, they usually end up back here. We'll never advertise a 75% off sale, because that would mean we were over priced by at least 75% to begin. I know some retail stores love hyping their weekly "super sales" and "bridal blowouts". It's just not for us.
There's lots of other things you'll like about us as well; our selection of jewelry is stunning, our staff are friendly and helpful, and Opal, our resident Standard Poodle, is fluffy and mostly well behaved. Most first time customers are amazed when they first walk into the shop, they just don't expect to find a store like ours in an office building. We hope you'll come to visit us one day, and find out for yourself why Barbara Oliver Jewelry is "a shopping experience like no other".
All the best, and shine on,

Are you ready for a jewelry shopping experience like no other?