Lucky March babies can choose from two very different birthstones: Aquamarine or Bloodstone.  (Aquamarine is also used to celebrate the 19th wedding anniversaries.)  Read on to make your choice, or better yet wear both!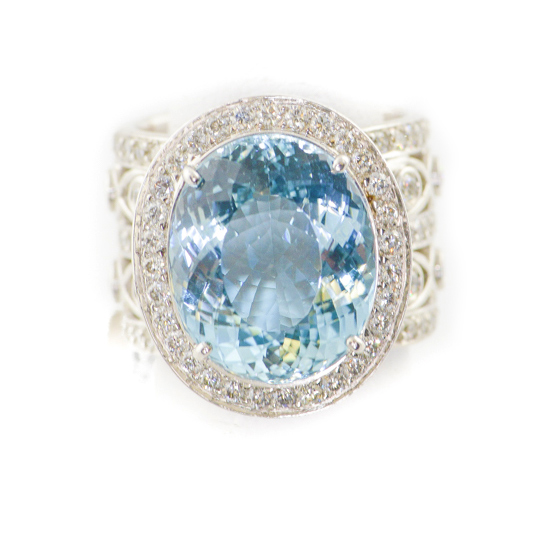 Aquamarine:  What's in a name. . .
Inspired by its beautiful color, Aquamarine's name comes from the Latin word for seawater.  Just as seawater, the stone itself varies in color from light to dark blue and blue green.

What to look for . . .
Traditionally the deeper blue stones are the most prized and command higher prices. However, we think it's also a matter of personal preference. The lighter colored stones are beautiful too, and we find many of our customers like them. Either way, aquamarine is often exceptionally clear with a glassy and translucent luster, making it a gemstone with an absolutely gorgeous sparkle.  There's more good news too.  Aquamarine is a fairly hard stone (7.5 – 8 out of 10 on the Mohs hardness scale), making it durable enough to wear every day.  And as a fairly abundant stone, it can be affordable for a variety of budgets.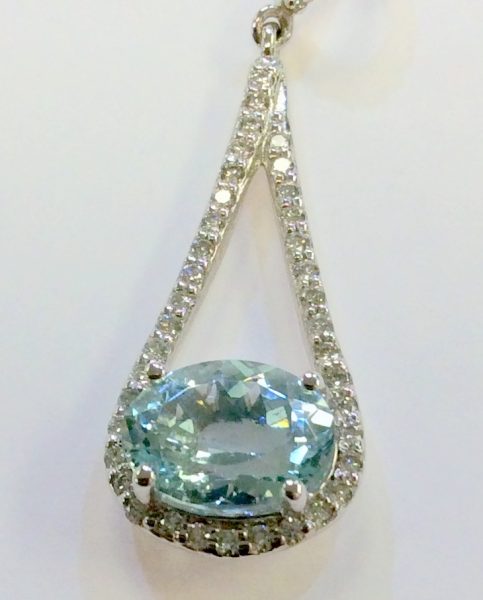 Historical Mythology  . . .

Not surprisingly, the association of aquamarines with water plays a part in their history. The lore is the stone keeps sailors safe at sea and waters calm.  Some have also believed that aquamarines
help keep marriages happy.  We are not sure how this association came to be, but from a jeweler's perspective, we have seen beautiful gems bring happiness to many couples from engagement to wedding and anniversary celebrations.
 All in the family. . .
Aquamarine is a member of the beryl family, which includes that very well-known gem, the emerald, considered to be one of the four most precious gemstones along with diamond, ruby and sapphire.  Despite being in the same family, the two stones look quite different. The most obvious difference is color with iron impurities creating blue colors in aquamarine and the green in emeralds coming from chromium and vanadium.  The second is that while aquamarines are often clear, emeralds frequently have inclusions and finding clear emeralds is much more difficult.
Bloodstone:  What's in a name. . .
Bloodstone is a stone with some interesting name variations. It is also known as heliotrope, an older name still used in Europe for the stone, which in Greek means 'sun turner'.  In the jewelry trade, the name blood jasper is sometimes used, but don't let this nomenclature fool you.  Bloodstone is not jasper, even though they can be similar in appearance.
What to look for . . .
Bloodstone is a variety of chalcedony quartz that ranges from opaque to translucent in appearance.  The stone can vary from light to dark green, and is characterized by red veins or spots, which are a result of iron oxide impurities.  The number of red inclusions can differ greatly from stone to stone.  It is a fairly hard stone (6.5-7 on the Mohs hardness scale) and is often cut into cabochons or beads.  A solid green stone with droplets of red is considered most desirable, though we must warn you that finding a solid green background can be tough as most stones have a variety of greens in them.
An Ancient and Varied History. . .
This stone has a long history dating back to 5000 BC when ancient cultures believed it held magical and healing abilities.  Babylonians are said to have made seals and amulets from the stone. They believed in its healing powers, particularly for blood disorders. It's interesting to wonder if the stone's appearance with its red 'veins' contributed to this belief.  Another legend explains the red color in this green stone.  It is said the stone was created when blood fell from Jesus' wounds onto jasper creating red droplets in the stone.
Looking for more. . . 
If you are local to the Buffalo area, please visit our shop.  We'd love to meet you, help you find something in our collection or custom design a special piece just for you.