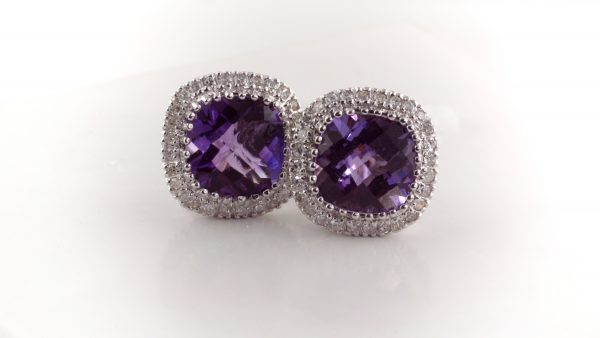 Amethyst is the birthstone for February and the traditional gemstone for the 6th and 17th wedding anniversaries.
We think it's a particularly beautiful and appropriate gemstone for February:  St. Valentine, the patron of romance and love, is said to have worn an Amethyst ring carved with the image of Cupid.
Long prized by royalty for its purple color, Amethysts have been a favorite of rulers from ancient Egyptian times to more recent times where it can be found in the British Crown Jewels. Luckily, for the rest of us, it is an abundant stone making it possible to be enjoyed by plebeians alike.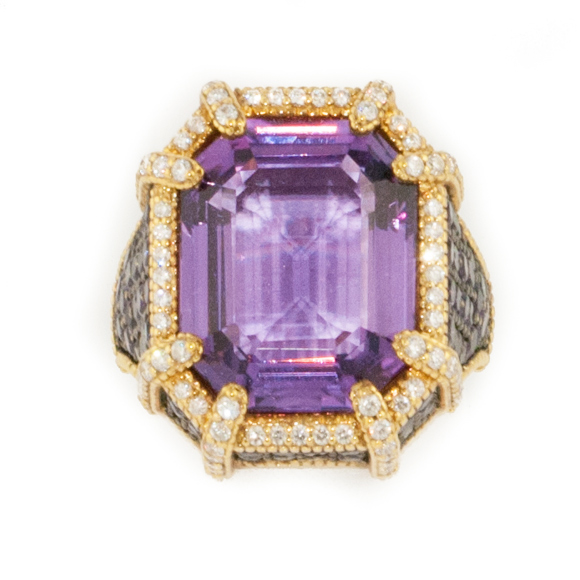 What to look for . . .
Fine Amethysts are translucent and free of inclusions.  Colors range from violet to deep purple color, which is most prized (think royalty here).  It is durable enough for everyday wear (7 on the Mohs hardness scale) and available in a variety of cuts to suit all tastes, though often cut in brilliant rounds or ovals to maximize its color. The ring shown on the right features a wonderfully transparent stone highlighted by diamonds and set in 18k yellow gold. 

What's in a name. . .
The word amethyst comes from the ancient Greek amethystos meaning "not drunk".  How this gorgeous purple stone got its moniker goes back to the days of mythology.  Legend claims Dionysius, the god of wine, became angered by a mortal and proclaimed tigers would carry out his vengeance on the next human being who crossed his path.  Much to Dionysius' great dismay, this was a beautiful maiden named Amethyst on her way to pay homage to the goddess Diana.  Diana turned Amethyst into crystalline quartz to protect her from the tiger's claws while Dionysius shed remorseful tears of wine, coloring the quartz purple and creating the beautiful gem we know today.
All in the family. . .
Gold colored citrine is closely related to Amethyst.  The only difference between the two is the levels of iron impurities. Higher levels of iron impurities give Amethyst its violet-purple color. When amethyst is heated to between 470ºC to 750ºC, iron impurities are reduced resulting in citrine. Ametrine, which displays both gold and purple colors, is a combination of the two stones as its name implies.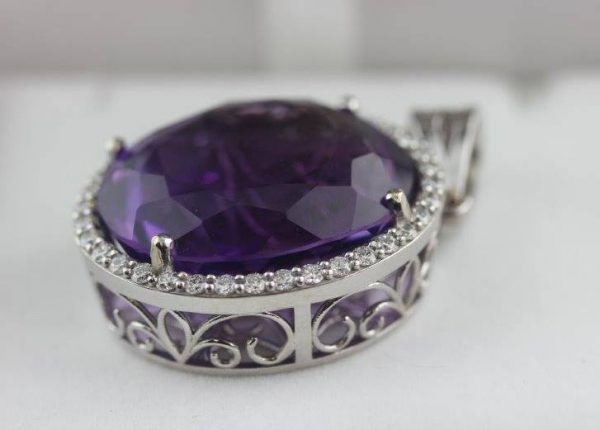 Where to find the largest Amethyst geode . . .   
At 2 ½ tons, the Empress of Uruguay is the world's biggest Amethyst Geode.  Housed in Crystal Caves, a private Australian mineralogical collection, the Empress dazzles visitors with its stunning gem quality.
Looking for more. . . 
If you are local to the Buffalo area, please visit our shop!  We'd love to show you our collection or custom design a special piece for you. Shown at left is a custom designed pendant with a 45 carat Amethyst center stone.